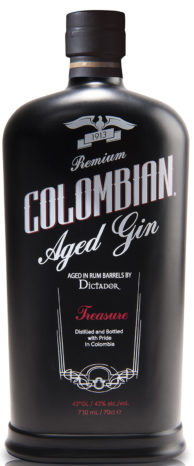 Dictador Premium Aged Gin
Colombia
Type: Brandy, / Gin, Gin
Producer: Dictador Global Ltd.
About the Producer:
Don Julio Arango y Parra started producing rum Dictador in 1913 and quickly became known throughout the Caribbean as the best rum producer.
This is one of the most winning rum in the world! Three gold medlajer for Dictador under WSWA taste testing competition in Las Vegas in 2012.
About the Product:
Gin er et brennevin smaksatt med einebær. Ved fremstilling av såkalt Distilled gin destilleres kornbrennevin etter at det er smaksatt, mens såkalt compound gin ikke gjennomgår denne prosessen. Sistnevnte er å betrakte som en smaksatt vodka. Den vanligste typen gin er London dry gin. I tillegg til einebær tilsettes det gjerne små mengder sitrusfrukt (sitron og bittert appelsinskall). Andre tilsetninger kan også forekomme (anisfrø, lakrisrot, kanel, koriander, angelika rot). Destillert gin utviklet seg fra de nederlandske brennevinstypene jonge- og oude- jenever eller genever, den søtlige Old Tom gin og den nøytrale Plymouth gin.
More From Dictador Global Ltd.